Who Says YOU Can't Get The Same
Pennies-On-The-Dollar Deals
Those Wall Street Guys Get

Revealed:
Closely Guarded Real Estate Secret
Blown Wide Open For The Select Few Main Street Investors Ready For Wall Street Profits
Dateline: 5 years past the Real Estate peak

Dear Real Estate Investor,

Are you sick from hearing all the sweet deals the too-big-to fail banks and hedge funds get? After all, it was all their shenanigans - which they made billions - that cratered the real estate market and the economy!

If you or I did any of that stuff, we'd be in orange jumpsuits for the next few decades. Those guys... not even a single day at Club Fed.

Instead, the first thing they got was a bailout.
Now - they're getting packages of "non-performing assets" (read: REOs) for pennies on the dollar. I bet nobody's knocking on your door with those kind of super sweet, mega-fortune-building deals.

What if you could learn the closely held secret of how to get them knocking on your door...
How you too can get packages of 5-100+ REO properties for pennies on the dollar...
AND how to turn those packages into life-changing wealth.

YOU CAN.

I'm super excited to tell you about an interview series I've put together with 3 REO experts. You will truly be amazed at how big this opportunity is AND how few people (outside of Wall Street) are exploiting it.

Don't think for a moment that you need any special powers,
or 3-piece suits in your closet,
or an MBA,
or months to work on one deal.

One of our experts will tell you exactly how he makes $10,000 to $100,000+ by:
making 6-12 phone calls,
doing 2-4 hours work,
in 30 days.

I encourage you to listen to these REO experts and discover how much more lucrative the "back door" deals are compared to front door (pre-foreclosure, and short-sale properties already on the market) deals.
Bulk REO Expert #1: Back On Top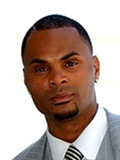 Life was good for Real Estate Investor Kenny Rushing. Real Good.
Until
The bottom fell out.
And he went spiraling down to the brink of bankruptcy.
What had been working - well - for him was no longer working at all.

When he got a notice that his lender on a mortgage he was 3 months behind on was sold, he wondered who and WHY would someone buy a bad mortgage.
Like an investigative journalist he dug and dug to find the answers and in the process discovered the very lucrative Bulk REO market.
Dig in with Kenny and discover...
Beginner? - start here
When and why do you "sanitize"
Use this sly technique for front end AND back end profits
The best way to find Bulk REO sellers
Easy way to find buyers
The completely lazy way to get buyers chasing after you
Deal evaluation - step 1, step 2
Simple guideline for knowing how much to offer
Why you want to look at small deals and why you want to look at big deals

"From a new investor perspective with no REO experience, these interviews are a great way to peak into the REO arena. I'm a wholesaler and I was told that in order to get into REOs, I would need to have a lot of leverage. These interviews busted that myth especially with Kenny and Susan's method of selling bulk REOs with no money and no credit. I highly recommend making the investment to listen to these interviews especially if you have no experience and wondering what it takes to do a REO deal(s). It's very inspiring to listen to the interviews. All together, all three interviews provides a well-rounded view on REOs."

Randy Camat
West Covina, CA


"Thank you for arranging the interviews of Alex Pardo, Kenny Rushing, and Susan Lyons. I have been out of the RE investing business for about 5 years, but have been following it pretty closely for the last year or so. The trend seams to be less foreclosures and more short sales and REOs. Anybody who is serious about investing needs to look strongly at both short sales and REO's.

The information in these 3 interviews has definitely given me some direction. They all had slightly different perspectives and methods that helped me with the big picture. They all agreed that having good relationships with Realtors is very important. I recommend that anyone considering purchasing REO properties should listen to these interviews before they purchase an expensive course from one of the many gurus."

Dan Watje
Murietta, CA


"This was a great program with lots of practical advice from experts who are active in the bulk REO field. I am a brand new real estate investor so some of the terms were unfamiliar to me. The interviewer was careful to ask for explanations and more details when the speakers used abbreviations or industry specific terms. Kenny Rushing emphasized the importance of relationships and some tips about how to go about building them. He gave tips about keeping a couple of houses for a retirement strategy. Susan Lassiter-Lyons outlined 3 different strategies and had good specifics and tips of mistakes to watch out for. She listed several helpful websites too. Alex Pardo had many helpful insights about outsourcing clerical work and how to value your time. He also talked about leads for buying and selling.

The heart of the program is the audio but it's great to get the word for word transcripts as well as a summary page of each speaker. The websites are listed and great for reference. As a newbie, I decided I was not ready to jump into the bulk REO business but someone with some wholesaling experience could be helped by this program to take their business to the next level. I learned alot that will be helpful for me as a beginner about building relationships, building a buyer's list and outsourcing clerical work."

Kelli Van Doren
Columbia, MO

Bulk REO Expert #2: Insights From The Inside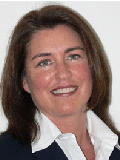 Susan Lassiter-Lyons used to be one of THEM before the market "changed".
A mortgage broker. But wait, she actually did work with Investors. And along the way developed relationships with local and regional not too-big-to-fail lenders. That gave her insight and access into the Bulk REO market that a typical Investor doesn't have.
Listen close as Susan parts the curtain on...
Here are the three models that work in the Bulk REO market
Apply the proper framework and you'll always know what to do next
Know about - and avoid - these two huge mistakes most people make looking for product
Two fantastic and FREE 'yellow pages' of sellers
Be aware of this recent change in how some lenders are handling their REOs... others will walk away, but here's how you can benefit.
98% of the properties are?
Five fabulous buyer fishing holes... you'll not need to look any further
Do this to make sure you get PAID
How much due diligence do you need to do. It depends on ___

"These three interviewers give very good insight to where to start to find deals. They also indicate to get access to an MLS and a MLS agent to find deals. To get started, go to public auctions at the courthouse and hand out business cards. Most of these people are cash buyers and could also help you close one of your deals.

These three interviews are great to get deals if you want to add a component to your real estate business with REO. The price is worth the money. It won't break the bank on you and you get really great ideas."

Benjamin Dangel
Sioux Falls, SD

REO Expert #3: Cube Farm to REO Farmer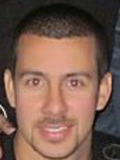 Alex Pardo was caught between his internal yearnings to be an entrepreneur and the urgings of his family to do the corporate thing. He gave the 'traditional' route a try but just couldn't stick.
After going to a Real Estate Investing Bootcamp at a friend's urging, he was hooked... and successful right away.
As the market changed, he's changed strategies.
Alex will school you on...
THIS is the key to success when working with REO Agents
Here's where I get most of my deals
Double close without a nickel of your own money - absolutely!, Here's how
Here's my workflow... and how I can outsource nearly all of it... for $2.50/hour
The two must have's you can get from MLS, and how to get access to MLS for free
Why you should always be working on this
The one thing I'd do differently if I was starting again
Should you share deals with your competition? The surprising answer
Bulk Up Your Profits With Bulk REOs
These strategy and tactic-dense interviews from experts with solid track records will come to you in a 3-CD set... listen from your computer, your car, your portable mp3 player or wherever.

If you haven't heard my interviews before, let me assure you, they're not the typical lite-on-content, heavy-on-pitch. In fact, there's no pitch at all. They're pause and rewind, detail-dense, real-world lessons.

I carefully prepare for each interview. I probe deep on the important aspects and keep each guest focused and on track. The quality of the content is as good or better than private seminars.

But it won't cost you seminar prices.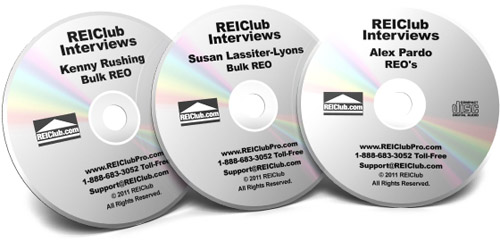 "REO Interviews"
100% Ironclad Money Back Guarantee

I"m so confident that you will love this powerful real estate investing information that I"m willing to bear 100% of the risk for the next 30 days. That means that you can get in now plus get all the bonuses RISK FREE and give it a shot for 30 days. If you aren"t happy for any reason simply let us know and I"ll immediately cancel your order and I"ll even let you keep all the bonuses as my way of saying thank you!




But Wait! Let Me Make This Even Easier For You!
Order Right Now And You Receive All These Extra Bonuses...
Yours Absolutely Free!
Complete Transcripts of All Interviews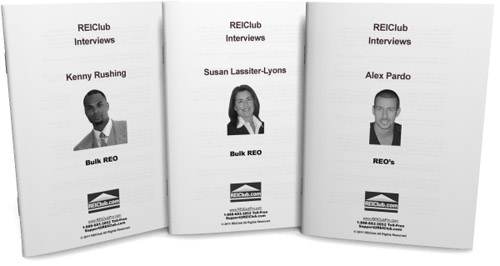 Here's a secret that's guaranteed to give you the mind of a Real Estate genius:

Some people learn best with audio. That's no secret.
Some learn best visually. That's no secret.
But the most powerful way to make something second nature, to fully integrate powerful, profit-making ideas into your brain, so you can recall them on command, is to use multiple senses to digest the information..

Was there a part that wasn't quite clear...
Want to jump to a part for quick review...

You'll have the transcripts to read over, scan and skip through, study and markup with notes to easily review when you need that clarification or re-introduction.

THAT'S why I went through the extra time and expense of having each interview professionally transcribed...
And...
FREE Virtual Assistant for 40 hours
Wish you had someone to do some of the work for you? Now you will.
Your VA will work for you up to 40 hours and there will be absolutely no cost to you.

We hear you. One of the top complaints we hear from Investors is not having enough time to get everything done.
We know doing everything yourself can slow you down and we want you be successful fast rather than slow. We've added this bonus so you get your system running quickly and you can focus your time on the high value stuff.
And...
Interview Nuggets
Focus, they say, is like a laser beam. Each interview has a handful of critical points. I've pulled them out for you and had them printed separately so you can easily grasp and review them at any time.

These little cheat sheets reveal the most important focus points from each expert. Read over them before listening to the interview to prepare your attention and again after the interview to cement those important points in your memory.
And...
FREE Fast Cash Flipping Houses Fast Start Audio CD
Fast Cash Flipping Houses is a step-by-step home study course on building a Real Estate Wholesaling business. This course leaves no detail untold and the Fast Start audio is a full overview of the wholesaling business.

Wholesaling is an excellent skill to have with REO's - this CD will be a perfect complement to the how-to information you'll receive from this expert series.
And...
FREE Trial Membership in REIClub Pro
You get complete access for one full month to the deepest - and growing - Real Estate Investing library available today. REIClub Pro has over 140 multi-media trainings available on every Real Estate Investment topic imaginable. Plus a full array of forms and resources to guide you through business-building and real estate transactions.

I pay your dues for this state-of-the-art wealth building University the first month where you can get a professional education that could mean tens of thousands of dollars for your business!

And if you find out you can't live without it - as so many others feel - you'll simply invest a modest $39.95 per month to keep it coming non-stop. New content is added monthly.

The first month is on me. You can cancel any time, without obligation. But I can't say that many do - this is one of the best values in Real Estate Investing available today!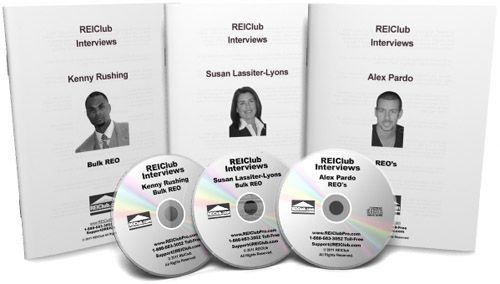 "REO Interviews"
Good Investing,

P.S. We reserve the right to change or remove this offer at any time. Some 3 CD sets have sold previously at $97. Please note this is the lowest price at which this offer has ever been available and we make no promises this price will be available the next time you return.

"The interviews with Alex Pardo, Kenny Rushing and Susan Lassiter-Lyons were loaded with real world practical advice, websites, suggestions and examples. Tim Randle conducted the interviews and asked the questions I would have asked as a 'newbie' to REO and Bulk REO investing. Any one of the interviews would have been many more times the value of the small fee charged. I can hardly wait to put the techniques to work."

William Pansegrau
Escondido, CA


"These 3 CD's produced by REIClub on Bulk REO are very instructive and can help newbie investors reach their goals. The speakers (Alex Pardo, Susan Lassiter-Lyons and Kenny Rushing) didn't retain any info like it is the case for many other speakers in this industry. They detail all their strategies and show their willingness to assist other investors in succeeding. By doing so, they project a bright light on all REIClub Cds and reinforce the objective of the club to be a premier place in Real Estate Investment.

Alex Pardo pinpoints the importance of a Virtual Assistant and the role he or she can play in the development of a Real Estate investment business. He explains also how he came to understand the positive impact of a personal trainer by helping him and any investor in general get the knowledge needed to succeed. In the management of the business, he describes the significant role of a Spread Sheet for houses and for Cash buyers that an investor can use to get more results. He also stresses out the need to build a good relationship with the actors intervening in the industry including the mastermind group and invites the auditors not to mess with those relationships because this may result in negative notes on their business. Susan Lassiter-Lyons provides specific info about Bulk REO. She explains how and where to find the sellers (the banks and/or credit unions) and she outlines also the strategy to use to get buyers. She introduces her program and describes how to make money with it. It is a good investment in term of knowledge and it is not expensive.

Kenny Rushing, with eloquence, brings to the equation a great idea of retaining 1 or 2 properties of the pack (tape received from the bank or the REO agent) and to make money for retirement . He clearly specifies that dealing with small and big packages are important: Use small packages to pay for the monthly bills but flip big packages to make money for retirement. In other words, any amount of return should be taken with great consideration. Kudos to Tim Randle for bringing those excellent speakers to the Club and to ask pertinent questions that the auditors would like to address."

Anthony Cherubin
Brooklyn, NY